Rewards-Based Approach
One of the most important parts of being a pet photographer is positively reinforcing the pets I work with. That's why I take a rewards-based approach to my pet photography. For the pet, that means lots of treats, praise, play, and snuggles.
For the pet parents, that means reinforcing all the right things our pets do while setting them at ease that their fur kiddo is doing well. It may not seem like it, but your pet is doing much better than you think!
I use several dog training techniques with my canine subjects. I reinforce good behavior when it happens and redirect when something isn't quite right. If you have taken clicker training, you'll see many of the same techniques used when I work with your pet.
As a pet photographer and pet parent, I have learned that aversive training approaches and force only make for a more difficult photo session. Happy pets are more willing and able to focus on having fun at the session. Shock collars, in particular, are prohibited from photo sessions with BFF Photography.
Your pet should see me (and you) as the bringer of all things fabulous, not as a potential cause of pain or stress. BFF Photography is a proud member of the Maine Shock-Free Coalition. We are also a member of the Pet Professional Guild.
The reward for your pet should be an enjoyable time. The reward for you will be amazing photographs capturing your pet at its best, feeling and looking fantastic.
Competitive Pricing
The investment in professional photography is one you shouldn't take lightly. Bell's Furry Friends Photography is a boutique business. Because of that, after your session investment, you'll be able to purchase a variety of products to fit your specific needs and home decor.
Every order is customized to your specifications. You'll never be shoehorned into a print collection since you'll purchase your session prints, wall art, albums, and products individually. Bell's Furry Friends Photography is competitively priced among its peers in the state. For events or business photography, please contact Deb Bell for a quote.
I Travel to You
Our furry friends are most comfortable in their own home or at a favorite Maine location. This is especially true for pets who are in their senior years, have illnesses or injuries. To honor this, Bell's Furry Friends Photography offers sessions on location within the state of Maine.
For locations, more than 60 miles round trip, mileage fees may apply. Every session is an adventure and one I'm glad to go on with you!
Individualized Sessions
Every pet is unique, so is every session! We meet ahead of time, either in person or on the phone, to discuss your goals for the photo session and how to make it uniquely yours.
During the session, I encourage you to bring toys, blankets, favorite treats, or anything you want to use to make your session truly special. If the item is sentimental, we'll make sure to honor that item along with your pet.
For the Love of All Things Furry!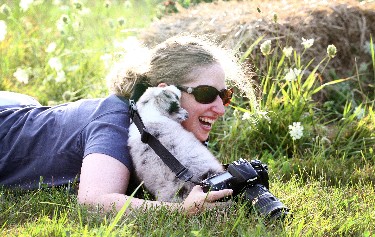 Deb Bell, the photographer, and owner of Bell's Furry Friends Photography in Hermon, Maine, captures the unique bond between people and their pets through relaxed, heartwarming photography. BFF Photography has been named Bangor's Best Pet Photography business each year since 2014. Deb helps pet parents create cherished images celebrating the unique personality and the love between it and its people at a client's home or on location in Maine.
Also, Deb volunteers her time to various pet-centric organizations, including pet shelters and rescues. She is an artist member of HeARTs Speak, a global network of artists dedicated to providing time and services pro-bono to animal welfare organizations. You'll see her out and about at many Maine pet events or raising funds for the Furry Friends Food Bank.
In addition to pet photography, Deb offers business, portrait, weddings, event photography, graphic design services, and writing services through Bell Imaging & Design, LLC. Bell's Furry Friends Photography is a division of Bell Imaging & Design, LLC. If you're looking for a relaxing and custom pet photography experience, contact BFF Photography today. Consults and dog cookies are always free.