Greyhound Rescue: Laura's Story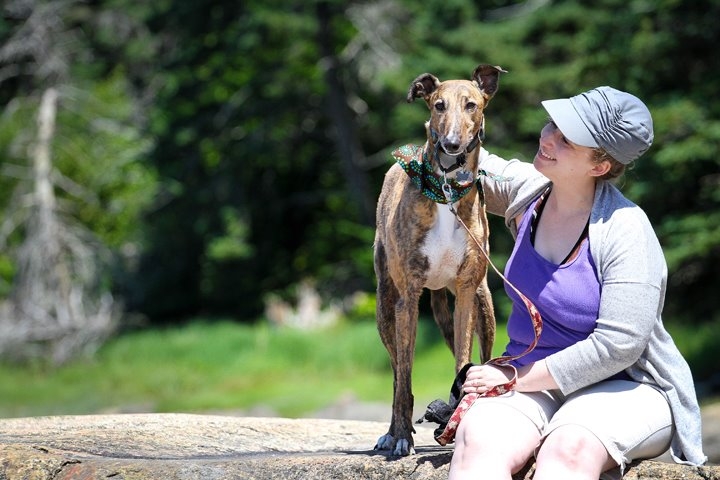 Before we adopted our seven-year-old greyhound, Laura, we didn't know much about greyhounds. Sure, we did research but didn't have much exposure to the dogs, except our friend's greyhound, Houdini. He was a beautiful black boy with failing eyesight, a big heart, and a quiet demeanor.
Our first stop on our journey to becoming greyhound parents was to visit the breed at a local meet and greet led by Sue Sprague, an experienced greyhound owner. She and her husband, Skip, have six hounds plus an Italian Greyhound. Skip, and Sue are demo leaders for the Maine Greyhound Placement Service, located at 231 Old Belgrade Road in Augusta.
Think of a meet and greet like a big love fest where humans and hounds come together. Because that's what it was. We researched the breed, watched television shows on greyhounds, and finally made the call to MGPS's Mary Towle to discuss what adopting meant and tell them about ourselves.
Boy, we were green. We just wanted a chill, loving dog to welcome to our home. We knew the adoption came with responsibilities. But it didn't matter.
We Were Ready!
Once Mary gave us the go, we set up the appointment for December 27, the day before my birthday. We picked up the necessary supplies like a bed, a kennel, food, bowls, and toys. We were ready.
Any pet adopter can tell you that you know when it's the "the one." Executive Director Scott Bruns started the matchmaking process with a parade of fawn-colored hounds. They were sweet, but we had no real connection.
My husband really loved the fawn color, which was part of why we were looking at that color. I told him that he didn't have to show us just fawn-colored dogs. We would be happy with any color dog. We just wanted a loving family member.
Then, Came Laura
Laura, who, upon walking out into the meeting room, made a beeline for me. She walked poorly on a leash while simultaneously staying close to us. When we said we really like her but wanted to look at just one more gave me sad eyes.
When another family was accidentally introduced to her, she kept trying to come back to us. That was the moment when I knew that she was the one. My husband wanted to look at "just one more," but I made my mind up.
As it turns out, we lucked out. Stan, a gorgeous fawn, was not cat safe. Our Maine Coon kitty's safety came before any dog.
We all but shouted it from the rafters, "LAURA'S THE ONE!" After filling out some paperwork, she was ours! Since that day, the day before my 30th birthday, we've been on an amazing journey. Laura's not your typical greyhound, but she's our greyhound.
Laura is one of 4,000 greyhounds placed through MGPS since it started in 1993. The organization operates as a non-profit, placing retired racers with loving retirement homes. It has grown to accommodate upwards of 50 dogs at a time from its kennel at 231 Old Belgrade Road in Augusta.
The kennel is flanked by the East Coast Greyhound Clinic, which provides basic medical care, dental, spay, and neuter surgery for MGPS's greyhounds and local animal rescues. And they do it well.
Passionate people run it. This isn't a fly-by-night company. The organization's one goal is to care for and place greyhounds who no longer race. MGPS provided us with a companion who is a loveable troublemaker! They continue to do that for other prospective owners.
The organization will hold its annual Open House and Reunion on June 15-16 from 10 a.m.-3 p.m., rain or shine. Admission is $5 per car. No adoptions for new owners will be done during the open house, but veteran owners can inquire about bringing home another grey that weekend.
For More Information
Visit MGPS here.