Maine Pet & Event Photographer: Bangor Bark for Life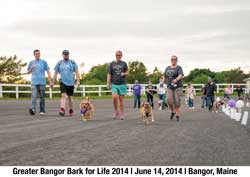 June 14: Bark for Life, Bangor, Maine
There's no greater pleasure than to see people coming together for a cause. It's just a bonus when those same people are pet owners. On June 14, the Greater Bangor Bark for Life committee, an offshoot of the American Cancer Society's Relay for Life, held their third annual event at Bass Park in Bangor on the same racetrack that standardbred horses careen down on daily.
Despite some threatening clouds, the event was as good as ever with fun, frivolity, and the united cause of working together to find a cure for cancer. Part of why I participate in this great event is because my own life and the lives of many of my clients have been touched by cancer, both in canines and humans.
It's well-known that dogs can provide an essential role in supporting those facing the C-word. Learn more about why the American Cancer Society started Bark for Life here. As a sponsor of the event, my job was to take photographs documenting the people and dogs.
Click on the photo in this blog post to be taken to the viewing and ordering gallery to relive, or live for the first time, the fun of the day. Any purchases of images from the gallery result in a 10% donation to Bark for Life. If you're social, find the gallery for social sharing on Facebook by clicking here.