Maine Pet & Event Photographer:
L.L. Bean Dog Days of August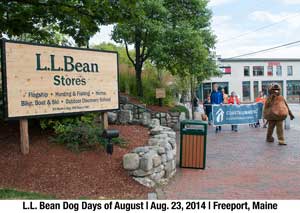 August 23: L.L. Bean Dog Days of Summer, Freeport, Maine
I was super psyched this summer when I received the go to be one of the vendors at L.L. Bean's Dog Days of August event. With a background in journalism, I adore wandering around photographing dogs and their people.
I grew up in Harpswell, Maine, only a couple of towns over from Freeport. We would go to the LL Bean store once a year to do some back-to-school shopping in Freeport. Now, there's a whole campus of stores! This event was a lot like coming home.
There was lots of action with a 5K Road Race benefitting Coastal Humane Society, a shelter dear to my heart, and a parade for the Coastal Humane Society. Then, doggie events throughout the day included contests, demonstrations of flyball, trick training, and how K-9 officers do their job.
The grass near the stage provided a peaceful place for people to hang out and enjoy the warm summer day. There were lots of vendors to visit and learn from. All in all, this was one of the highlights of my summer!
Relive, or experience the fun for the first time at the online viewing and ordering gallery at bellimagingdesign.zenfolio.com/llbeandogdays. Any purchases of images from the viewing and ordering gallery result in a 10% donation to the Coastal Humane Society. If you're social, go to the Facebook Gallery.