Ready for My Close-Up Partner: Green Acres Kennel Shop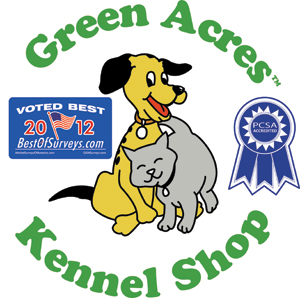 "Ready for my Close-Up" will be held Friday, July 12, 6-9 p.m., Sea Dog Brewing Company Banquet Center, 26 Front Street, Bangor. Just a reminder, this is a people-only event. Please leave your pets at home.
Ready for My Close-Up Partner: Green Acres Kennel Shop
Owners: Don & Paula Hanson
Location: 1653 Union Street, Bangor, Maine 04401
Phone: (207) 945-6841
Website: www.greenacreskennel.com
Facebook: www.facebook.com/GreenAcresKennelShop
An oft-overlooked part of pet photos is the pet's attire. As people, we focus a lot on the clothes we wear and how we look. However, successful pet portraits showcase fashionable items as well.
We're not talking about couture dresses like you see at New York Dog Fashion week. Yes, it exists! Instead, we're talking about harnesses, collars, leashes, and coordinating people gear.
When planning my Open House, I reached out to one of my clients, Don Hanson, co-owner of Green Acres Kennel Shop. Don and his wife, Paula, had me photograph their fuzzy BFFs and provide photography and design services to the business. Recently, I helped him with a relationship session with his newest BFF, Muppy!
Green Acres Kennel Shop has been in business since 1965. The Hansons have owned it since 1995. The business offers boarding, daycare, grooming, training, and behavioral consultation services for dogs and cats. In addition, it sells a wide range of healthy, holistic pet foods and quality pet supplies.
They know their stuff! Green Acres was voted Bangor's Best for its kennel, pet store, and training. My dog, Laura, loves the staff and the things they supply. She loves the playfield and spending time with her favorite staffers.
What's a tip that you can give that would help a pet prepare for photographs?
Spend some time planning and preparing your pet for a photo session. Habituate them to the environment where they will be photographed. Give them a training refresher, so it's easy to get them in the position you want without you or them becoming frustrated. Most of all, be patient and have fun. Let Deb capture you and your pet as you really are.
What's your favorite part about being a pet-oriented business?
Helping pets and their people to understand one another better and have the best possible life together.
Why did you agree to participate in this event?
We've had the opportunity to work with Deb for several years. We're crazy about her work and approach to pet photography. We look forward to seeing existing clients and meeting new ones while helping her launch her new venture.
What can people learn from you the night of the event?
We'll talk to people about all of our services and products with a special focus on how training can help make your photo sessions with Deb easier for you and your pet.