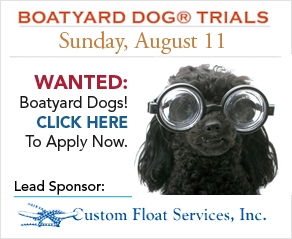 Growing up on the coast, one of my favorite places in the world is still sitting in front of the ocean and listening to the waves crash and seabirds sing. Bill and I have taken Laura with us to the ocean many times. Aside from being a little freaked out when she goes past her belly in the water, she loves chilling in the salty water.
It is, in a word, perfect. When I read about the Maine Boats, Homes, and Harbor's Magazine's 11th Annual World Championship Boatyard Dog Trials at 10 a.m. on August 11, I knew I needed to get involved somehow.
First, I thought about entering Laura into the competition. Even though she's well trained, I think the crowd would get her too excited. Instead of focusing on competing, she'd focus on lapping the faces of every person there.
Then, I thought about being part of the fun differently through my skills as a photographer. I reached out to the show organizers. We agreed to work collaboratively.
My pet photography business, Bell's Furry Friends Photography, is the official show photographer! I am so excited! I can't wait to see the dogs strut their stuff!
Does your dog have what it takes to compete?
Contestants and their dogs compete in a series of trials, which must be completed eight minutes per contestant pair. Then, competing dogs and their people are judged on a combination of style and pizzaz.
Dockside Obstacle Course – Dog and handler must negotiate a maze of lobster traps, piles of rope, and other funky dockside paraphernalia.
The "Dinghy Hop" – Dog and handler scramble in and out of a tippy dinghy tethered to a float.
A "Freestyle" Segment – Consider this the talent portion of the event. Although no swimsuits are required, each dog and their person show off special talents.
Who is eligible?
With preference given to dogs that work in a boatyard, well-behaved dogs serve as crew on a boat or are involved in direct operations of any kind on the waterfront. Bonus points go to water-loving dogs!
Here are the rules – Courtesy of MBHH:
Either dog or handler must finish the contest soaked.
Cheating is not only tolerated but encouraged.
The freestyle event has a twist to it. The organizers get creative and report back on the details.
Do you have what it takes?
Get your pup a pen and paper. Submit a letter of interest, a flattering high-resolution photo, and daytime contact information. Get in the judges' good graces by sending humorous entries.
They tell me this is a non-serious competition. Entries required by June 30 to [email protected]. Finalists notified by July 8.
Want to come instead?
That's cool, but please leave the pup at home or in an air-conditioned area. Due to liability, no pets are allowed on show grounds except the competitors.